Blarg, been sick to a point I couldnt get out of my bed for a few days. That while its hot outside, Ariya you got issues haha. Well finally sitting behind my pc longer then a few minits I try to get myself back in swing. My victum, one of my unicorn girls. Decided on an edit, but then I tought "hey why not just make a template while im at it!" Me and my silly ideas.
I already got quiet a bit done, so its going to be a rather small WMW haha, that and a splitting headache so ill probably stop after I got the base set done.
*Images are clickable for larger vieuw.
I got the "normal" eye done aswell but I personally don't like them to much so she is showcasing my impromptu eye here. Currently working on the tail, pondering on darkening the body shading. Mane and tail are seperatly offcourse, hence why its a template.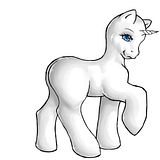 Planning to spice her up into an acteull edit of one of my girls, but my headache is telling me that will be done later | D
Currently added:
- Body Base (done?)
- Basic eye (done)
- Alternative eye 1 (done)
- Basic tail (shading)
- basic mane (inked)
- Genes (okapi, bodyfade and legfade done)
I will open the template for public use when its done, so if you have any interest on using it feel free to stick around. While I am currently making it mainly photoshop CS orientated, I can make it GIMP compatible without a problem. Your free to use it as a base for tattoo's aswell, I am just going to warn you upfront that I didnt test the fade's accuracy. Aswell that my shading is hardly the same as the actuel base. But feel free to use the other genes I will template later for those fool gene mimics.
Facts:
- I use photoshop CS3
- I use a WACOM pen and touch M size drawing tablet
Comments and critics welcome, still pondering on the darkness of the shading. I am also open to gene and item requests for this base. Altough as mentioned my headache is already killing me so no promises on when or if ill do them x.x
Please scroll down for updates and temporarely download link.