Main Heb~Bastet Thread
The scent of heady incense is the first thing to hit your senses when you enter the temple to the cat goddess Bastet. Large, decorated pillars line the main room stretching to the ceiling high above which is also elaborately painted with hieroglyphic images of Bastet with many cats.
On pillows around the temple cats of varying types lounge about, some scamper and play chasing the myriad of cat toys that litter the floor. Golden bowls filled to the brim with the choicest treats are laid out for them. In the middle of the expansive temple room is an indoors fountain painted with images of cats, but instead of water it is magically enchanted to spray forth fresh cream from the mouths of bas relief cat heads.
At the back of the temple room stands a gigantic, golden statue of Bastet herself in her human bodied and cat headed form. The many light sconces and lamp lights nearly dance their radiance upon her.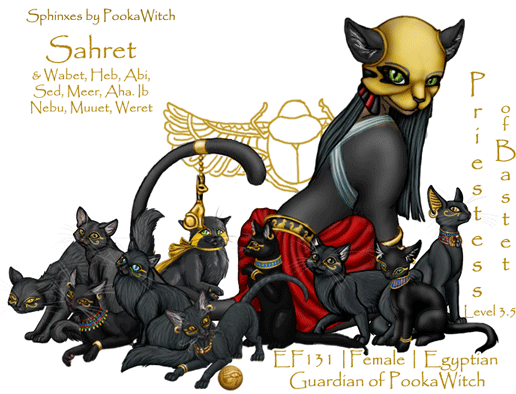 ~Sahret stretches a long, feline stretch as the doors to the temple open and the sphinxes arrive. Sitting back upon her haunches her heavily kohled eyes move from behind her mask, looking over the potential priestesses~
Sahret:
Ii-wy em hotep, welcome in peace to the Temple of Bastet. Today, in honor of the nefer netjer Bast we are offering to take in two worthy females to the lofty position of priestess. Both new priestesses will also gain cat companions from the temple.
Typically such a raise in position requires one to be literate, but for those of you who are not already trained in the way of the scribe we will just need to tutor.
This is the opportunity for those of you of the peasant class to toss away your filthy rags and become one of the pampered elite. Oh, and if it wasn't obvious, we're only taking in preistesses, so females only.
Rules of the Temple
~Typical rules of this land (PI)... be sure to follow them.
~ No whining, don't make people feel bad for either winning or losing
~ No editing contest posts for any reason (without permission)
~ No cheating... obviously, you will be expelled from the temple for doing so
~ Please do not bid more then you can afford (with the auctions)
~ No retracting bids
~ Payment for auctions are due within 24 hours
~ For timed contests and auctions the end time of the auction is the the very last possible second on the minuted posted. For example if a contest/auction ends at 2:30 PI time then the very last post that can be accepted is 2:30:59.
~ Be kind to the cats >.>
Sphinx Claiming and Certing
~ If you win a Sphinx or job upgrade please PM the
Sphinxes
account within one week with your cert info or it will go back into the givaway pool.
The Stray Cats
(See the
Main Heb~Bastet Thread
for information about this game.)