Writing and Roleplay
Azuyan & You
What Is Azuyan?, Official Site Mascots, Azuyan Ranks, Azuyan Colors, Fanworks, Azuyan Lore, Azuyan Events, Join the fun!
The Writer's Guild & You
What Is The Writer's Guild?, The Roleplay Forums, The Fiction Forums
Azuyan & You
What Is Azuyan?

Azuyan is an exciting world you can visit with your ponies!
The Azuyan Association is a place where players can interact with other players and their ponies in a shared world setting. The world of Azuyan is an epic adventure fantasy, which includes ponies, their two-legged and four-legged friends, wizards and pirates, knights and necromancers, pixies and dragons, and the ever-evolving conflict between light and dark.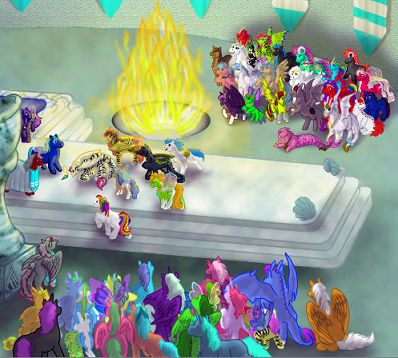 Inside the Cyan Temple, art by Pristine
Azuyan has many different opportunities to explore that can enhance your game experience. Design your own corner of PI, share your adventures with other players and their characters, take on new goals to achieve.
Official Site Mascots
These ponies are official site mascots and frequently appear in Azuyan events. They also have their own character accounts that are managed by the Azuyan staff on behalf of the site admin.
The Cyan Lady or Lady Sleh Plah Plah (LSPP) is a powerful spirit, born in Heaven, sent to Azuyan as its protector from the rising power of KORR. She is most often found at the Cyan Temple on the Cyan Isles where her followers gather to show their support of light, love and laughter.
The Dragonlord KORR has risen to power in Azuyan several times, each time being reincarnated as a new threat against his nemesis the Cyan Witch and all her fluffy friends. Minions of the Dragonlord join the fight to show their support for his world domination. The Dragonlord resides in the Black Fortress nestled in the Ironblade Mountains on Black Isles.
Azuyan Ranks
Train your ponies to obtain an Azuyan rank in your pony's profile.
Azuyan Colors

Azuyan Colors are used for breeding goals and color-collecting quests. The most popular quest is the Legion Challenge. Ponies with Azuyan colors also earn a bonus in official roleplay events.
Fanworks
Create your very own corner of PI. Design your island and the characters who live there. Craft your island's history and host your own roleplay. You can write fanfics or even show off artwork of your favorite characters. Let your creativity guide you in shaping the world your ponies inhabit.
Azuyan Lore
Read all about Azuyan's history and what it's official characters are up to.
Azuyan Events
We run exclusive roleplay and competition events throughout the year.
Join the fun!
This is an official site club with activities managed by the Azuyan staff on behalf of the Pony Island admin. You must be a member to chat, roleplay or participate in certain events, but site wide events are also held on the main PI forums and do not require membership.
To become a member, please pm the Azuyan account with 'Invite' as the subject of the pm.
The Writer's Guild & You
What Is The Writer's Guild?
The Writer's Guild is the part of PonyIsland where you can post your stories or interact with other users through roleplay. It's a place for all creative writing, and everyone is welcome regardless of your age, experience or level of ability.
The association is visible to everyone, so you can enjoy reading others' stories and roleplays without joining, but in order to participate yourself, you will need to join. You can do this by sending a PM to the account Writer's Guild, requesting an invitation.
Also note that the Writer's Guild has a set of specific rules that are in addition to PonyIsland's general rules, so you will want to familiarize yourself with them before posting in the association.
There are seven forums in the Writer's Guild, and they are as follows:
Writing Discussion - A place where you can discuss writing techniques, such as outlining plots and storylines, developing realistic and complex characters, improving your writing style, and anything else related to the process of writing stories or roleplays. There are also occasionally writing contests run in this forum.
The Roleplay Forums
Roleplays of any kind are allowed in these three forums; you can roleplay the ponies in your stables, your favourite book, TV show or movie, or something completely new and original.
Beginner's Roleplay - This forum is for people new to roleplaying, or just those who don't feel like writing a lot. This forum is for short, single-line roleplay posts, where the emphasis is on roleplaying without pressure or expectations. This forum can be quite fast-paced.
Intermediate Roleplay - The standard roleplay forum, Intermediate Roleplay has higher requirements for posts. Roleplays have longer, more detailed posts, and a good knowledge of the English language is needed for this forum. It tends to be more slow-paced than Beginner's Roleplay.
Advanced Roleplay - A very challenging forum, this area is for roleplays requiring long and detailed posts, perfect English skills, and complicated storylines. Advanced Roleplay is for writers who like to take their time, and it is consequently a forum for very slow-paced roleplays, where quality is more important than speed.
The Fiction Forums
The Fiction forums are actually for any piece of writing that is created by a single author, rather than as a cooperative effort like a roleplay. That means that it's not just stories that can be posted in these forums; poetry and non-fiction are also welcome.
PonyIsland Fanfiction - This forum is where you can post stories about PI ponies, either the ones from your own stables or ponies you create with one of the dream pony generators.
Non-Pony Fanfiction - If you want to write stories about your favourite book, TV show, movie or computer game, then Non-Pony Fanfiction is the place to do so. Any pre-existing creation can have fanfiction posted here, unless the original creator has specifically prohibited fanfiction of their works.
Original Fiction - This is where you can post stories that aren't based on PonyIsland or any other pre-existing work. Original Fiction is, as it's name suggests, for completely original stories, where all your ideas are your own.